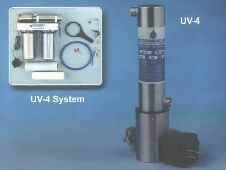 Specifications
UV-4 Complete Water Purification System

The WYCKOMAR UV-4 water purification system provides clean, safe drinking water, far exceeding Health Department standards for potable water. Ultra violet light kills disease-causing microorganisms with a 99.9% effectiveness and the two superior quality pre-filters aid the removal of sediment, bad taste and odours. Nothing is added to or taken out of the water.

The UV-4 system is ideally designed for home, cottages, on board ships and RVs. The 12V DC operation provides the flexibility to be used in all of the above applications. The system runs continuously, automatically and is inexpensive to run. Easily installed, the only maintenance is a single lamp and filter change recommended every 10-12 months.

The WYCKOMAR product line is manufactured in Canada and consists of many other UV models suitable from homes to industrial, institutional and hotel applications. Please contact us (sales@semicon.ca) for pricing on the UV-4 system or any of the components, which can be all sold separately.